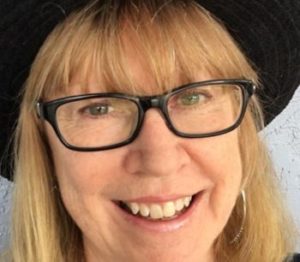 MEET THE AUTHOR
Lynanne Rockhill writes fiction and nonfiction. She had a one-act play produced off-off-off Broadway, a screenplay produced into an independent feature movie, several produced scripts for documentaries, freelance articles, and now writing her first novel and working another screenplay. Lynanne defines her creative fiction as poetic narratives and her poetry as personal flash stories.
I inherited a library from my step-grandfather, and for many years I didn't realize its wealth of information and knowledge might also interest others. I read many of the books and added my own books to the collection. Most of these books taught me many things that influenced and shaped my thoughts and beliefs throughout my life, but it was the historical biographies that had the most profound affect. 

I decided to dig into my collection of books and share on my website what I discovered, including some of my historical experiences. I expect I will need to expand my research beyond my library to compare, verify, and add information, so accessing the internet and other libraries will be necessary.

I know I will enjoy this study into America's past, and I hope you will too.  Thanks for visiting.
Training
Lynanne is a professionally-trained actor from New York in the methods of Meisner, Adler, and Stanislavsky. Her training became the cornerstone for her fictional writing. Character development, scene study, intentions, emotional and fantasy memories, and improvisations all shaped her writing skill into a solid understanding of the importance of character, plot, scene structure, relationships, triangles, and dialogue.
Career Highlights
Co-Partner and screenwriter for Villani-Rockhill Productions and Mighty Moments Motion Pictures
Co-Founder and Managing Director for Bravado Theatre Company
(Ralph Villani – Co-founder/Director/ Producer)
Film Projects
EARLY AGRICULTURE OF MARTIN COUNTY – writer/documentary // Produced by MCTV and Univ. of Florida IFAS // Director: Ralph Villani-MCTV // Producers: Ralph Villani, Fred Burkey (Univ. of FL IFAS), Jim Overton (former Stuart News Co-Owner), and Bob Whitty – Florida Agriculture Representative
U.S.S. DRUM  – writer/teleplay -documentary  //  released 2015  // received the 2015 CINDY Gold Award
U.S.S. SEAVIPER  screenwriter -Action-drama feature film  //  Awarded Best Picture, Best Screenplay, and Best Cinematography – 2012 Treasure Coast International Film Festival  // Best Florida Film Project – 2012 Central Florida Film Festival  //  Audience Choice Award for Best Film – 2012 VegasCinefest Film Festival
ONE ZERO ZERO AND CLOSING – playwright and original screenwriter  //  produced in 1998 off-off-off Broadway, NYC  //  drama-short feature, received 1999 Telly Award  //  Screenplay adaptation of the original story is in pre-production as a feature film
CRYING WHISPERS  screenwriter, feature film  //  Silver Award – 1997 Philadelphia Film Festival