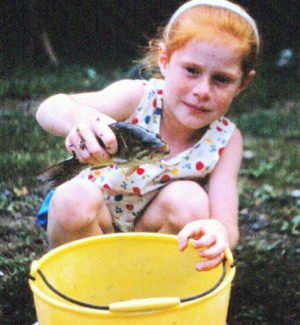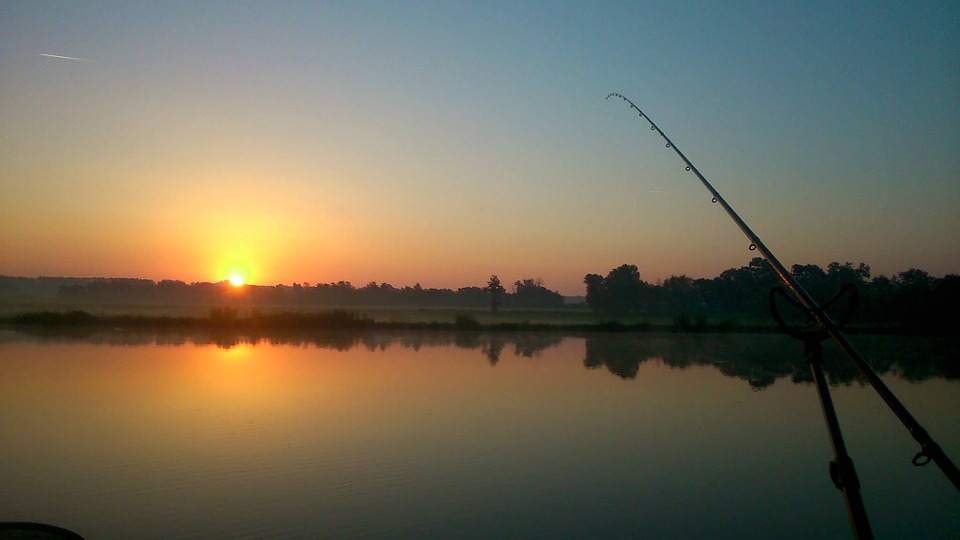 A Young Fisherfolk and The Finny Pond Master 
LONG SHADOWS STRETCH FROM A SETTING SUN
Across a path between the trees,
As spring flowers spice a passing breeze
So welcomed after a winter done.
Silhouettes mark time soon to become
Twilight, in an echoing quiet where sound
Reaches farther, sharper, and surrounds
Higgits Pond like a distant beat of a drum.
SPOTS OF YELLOW GOLD LIGHT THE WATER ON THE POND
Home to bass, bullhead, carp, crappie, catfish, and perch;
A fisherfolk casts a baited line out to lure, to search,
To evoke a bite, a fight, a catch, but no fish respond.
Standing at the water's edge upon
A rock, another whip of the tip of the line is thrown
Working a buzz-bait for any fishbone,
To strike under the water of Higgits Pond.
OTHERS COME ALONG THE TRAIL BESIDE THE SHORE,
Some stroll, some run, some bike, some linger,
While others sit to see, or touch with a finger
Plants along the water's edge or rocks along the floor.
Salamanders, green toads, snapping turtles, and more
Blackbirds, cranes, heron, and geese
All return to Higgits Pond for a summer's lease,
As they have always done every year before.
FISHERFOLK ARRIVE IN SPRING AS ALWAYS, IN A FLASH
With pole in hand ready to bait, cast, and retrieve,
Manipulating the tip so fish will believe
A wounded minnow, a darting fish, or noisy splash.
They reel, they pause, reel, and pause, never rash
For there may be a fish following the lure,
You just can't tell what tickles a fish for sure
That will draw them up for a Higgits Pond smash.
AND REGULAR HIGGITS POND FISHERFOLK KNOW
That the low light of dawn, dusk, and night
Are favorite times for bass to bite;
Walking softly, watching where their shadow
Falls, for chances are the fish will turn tail and go
Like old finny pond master who sees from under fearing
Those from above, so it is best that casting
Be parallel to shore as well as smooth and slow.
NOW FISHING SLOWED DURING A MIDSUMMER FEVER
And damselflies hung with the heat in the air,
While male crickets chirped loudly, often, and everywhere;
A lone young fisherfolk, a pond master believer,
Spots a slow wake that makes this perceiver
Duck out of sight to bait, to pitch, and ensnare
The old finny in the shallows of the bank, but aware
That a strike could explode into this receiver.
SWIRL AND SPRAY SMASHES THE YOUNG FISHERFOLK,
Snatching the rod back and holding for dear life,
The spinning reel screaming in fury like a fishwife
As the pond master swims to counterstroke
In its final battle – twisting, leaping, till it broke
The surface beaten, outsmarted, and outdone.
Gone are the shadows that stretched from a setting sun,
And so too, finny pond master by a lone young fisherfolk.
    – Lynanne Rockhill –