1863 – Battle of Gettysburg
1863 – Battle of Gettysburg
HELL ON EARTH
"The hoarse and indistinguishable orders of commanding officers, the screaming and bursting of shells, cannister and shrapnel as they tore through the struggling masses of humanity, the death screams of wounded animals, the groans of their human companions, wounded and dying and trampled underfoot by hurrying batteries, riderless horses and the lines of battle…a perfect hell on earth, never, perhaps to be equaled, certainly not to be surpassed, nor ever to be forgotten in a man's lifetime. It has never been effaced from my memory, day or night, for fifty years." Massachusetts Private, Gettysburg – The Civil War: an Illustrated History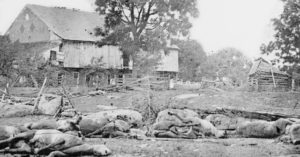 This year, 2013, marked the 150th anniversary of the 1863 Battle of Gettysburg. In 1964, I visited that battlefield (est. 1895) for its centennial anniversary. Gettysburg was named for James Gettys, a site granted to him by William Penn. Situated in southern Pennsylvania near the Maryland border, it's beautiful rolling hills gently marked the countryside.
My family trip in 1964 to Pennsylvania changed my perspective toward American history forever.  I was hooked on history. I was old enough to understand that this American Civil War battle was fought between the North against the South, brother against brother, which ended in massive casualties on both sides. It was the bloodiest battle ever fought on American soil.
(Note: I found the total number of lives lost, wounded, and missing for Confederate and Union armies differed among the various sources in my research. Numbers did not match on any site or book, therefore, I rounded the casualty numbers for both above 20,000.)
In Search of Supplies
Union forces under General George G. Meade eventually defeated the Confederates commanded by General Robert E. Lee in that three-day battle. Yet the commanding generals never meant to fight in Gettysburg.
In search of needed supplies, Lee's army invaded the North by entering southeastern Pennsylvania where he was able to freely roam the territory. His main army was too spread out to engage in battle (General James Longstreet in Chambersburg and General Ambrose P. Hill were eight miles to the east and Lieutenant General Richard Ewell at York and Carlisle), and as long as Meade's army remained south of the Potomac River, his invasion could do no harm. However, Lee's action alarmed the government in Washington.
Unexpectedly, General Lee became separated from his cavalry, which was under General J.E.B. Stuart, for three days. As a result, General Lee was unable to determine the strength and movement of the enemy. When General Lee found out that the Union forces were now concentrated north of the Potomac River, he ordered his three army corps under Longstreet, Ewell, and Hill to change their positions for Gettysburg. Lee then took up a strong defensive position along the eastern slope of South Mountain, near Cashtown, and General Meade focused his forces on a defensive position behind a stream called Pipe Creek in northern Maryland, some 15 miles south and eastward of Gettysburg.
1 July 1863
At 5:30 a.m., Corporal Alphonsus Hodges, Company F, 9th New York Cavalry, along with three companions, was five miles west of Gettysburg searching for the enemy through the morning mist along Cashtown Road. It wasn't long before he saw one, Colonel Burkett Davenport Fry's 13th Alabama Infantry, which was headed his way as well as the advancing Confederate brigade of A.P. Hill's Corps under General James J. Archer. Corporal Hodges fired a shot, and then he galloped back to General Buford to report his encounter.
(Note: One of my several library sources on this subject [J. MacDonald – Great Battles of the Civil War] stated that a Lt. Marcellus E. Jones of the 8th Illinois Calvary had seen the Rebel troops advance up Chambersburg Road toward his post east of Marsh Creek. It said that Lt. Jones fired the first shot in the Battle of Gettysburg. I also noticed another statement from that source that Hancock had replaced the fallen Reynolds, and my other sources contradict this information. Therefore, I will refer to my other sources.)
General Hill's corps met the Federal cavalry force under Buford west of Gettysburg. The Union cavalry was driven back, including the Union's 1st Corps under General J.F. Reynolds. General Reynolds was an instinctive fighter, and as he and his troops surged forward at the battle line to strike, a minie ball struck him in the neck and he fell dead from his horse. There was no other choice now for General Lee or General Meade but to fight.
General Abner Doubleday (inventor of baseball) moved up to command Reynolds troops. He extended the Union's 1st Corps along the crest of their ridge, facing west, to stand against a new attack. They were surprised to come under fire from the north as Lieutenant General Ewell's leading division attacked Doubleday's right and rear. General Oliver Otis Howard's Union brigade, though low in number, arrived just in time to ward off Ewell's assault. Then Ewell's second division came into action from the northeast and hit Howard's line in the flank and rear, striking precisely at the right moment, but quite by accident. If Howard's troops were driven back, General Doubleday's troops would not have been able to hold their ground against General Hill. This was General Lee's moment of opportunity, and he immediately did an about-face and ordered an advance.
Meanwhile, Confederate General Archer was captured and taken prisoner. He was the first general officer in the Army of Northern Virginia taken by the Federals since General Lee assumed command of the Confederate Army. General Doubleday was pleased to greet an old friend, but General Archer did not consider the meeting a pleasure.
As General Lee advanced, a desperate fight commenced on an open field for almost an hour. The Union's line right half collapsed first in the front, then at the flank, and then in the rear from the Confederate offensive. The Union troops were overwhelmed, and General Howard's men broke off and retreated to the town of Gettysburg, where they were trapped. Their flight into town proved to be confusing and costly. Union and Confederate troops collided quite unexpectedly, sending intervals of smoke from blasting canisters down Gettysburg streets. Dilger's Union Ohio Battery defended the troops from the town square in an effort to halt the advancing Confederates, and by end of day, the Union troops managed to get to Cemetery Hill. Lieutenant General Ewell's triumphant Confederates held the town.
Later that afternoon, General Meade sent Major General Winfield Scott Hancock to take charge and rally the retreating troops into a new battle line along Culp's Hill and Cemetery Hill. Major General Hancock anticipated the Confederates to push their advantage, but they did not. General Meade found his army to have a strong defensive position from Culp's Hill southeast of Gettysburg, west to Cemetery Hill, and two miles south along Cemetery Ridge to a rocky mound called Little Round Top. General Meade surmised that he had enough men to hold their position, and that possibly he could move with an offensive himself.
General Lee viewed the fight on the first day a win for the Confederates; however, time and circumstances went against him. The Federal Army for the first time in this war defended its own soil. Lee did not have the defensive position that had served him well at Antietam and Fredericksburg or the trickery and distractions that won the Seven Days and Chancellorsville. Lee did not have the advantage, and he could not force the Federals to fight this battle on his terms. The only maneuver left was to continue the fight and slug it out, a position that Lee did not want.
2 July 1863
The Confederate attack was not made until late in the afternoon, which provided time for the Federal forces to strengthen their position and prepare for an attack. General Daniel E. Sickles moved the Union III Corps from its position on lower Cemetery Hill toward the Peach Orchard, south of Gettysburg and a half mile in front of the Union line. This move left the Round Tops and the Union's left flank undefended. General Meade ordered him to fall back, but before General Sickles could do so, he met General Longstreet's Confederates at the Peach Orchard where he attacked. They fiercely fought in the Peach Orchard, a wheat field, and in the rock ravines known as Devil's Den. A dense fog of gun smoke hid the fields, the woods, the fighting men, and the cannons whose gunners found this fight to be worse than Antietam, a battle remembered as Artillery Hell.
The Union's Chief Engineer, General Gouverneur K. Warren, and a young engineer, Lieutenant Washington A. Roebling, were sent to the summit of Little Round Top to view the battle and they found it undefended. They saw below that Sickles was unable to move in the Peach Orchard, and Longstreet was moving around to the Union's left. Warren sent for reinforcements for Little Round Top, and the last of four regiments ordered in was the 20th Maine, under Colonel Joshua Lawrence Chamberlain.
The fighting 20th Maine prevented two Alabama regiments from flanking Little Round Top. The Alabamians regrouped and struck again, gaining some ground and threatening the Union's left. Chamberlain reformed his line into right angles and had his men continuously fire their muskets the whole time. The noise from the fighting intensified, which alarmed Chamberlain into believing that Little Round Top was being surrounded. He advanced his men with their bayonets fixed. He held the right of his regiment straight and sent his left lunging down the hillside to the right. They surprised the Alabamians and they faltered, scattered and fled for their lives.
"Imagine if you can, nine small companies of infantry, numbering perhaps three hundred men, in the form of a right angle, on the extreme flank of an army of eighty thousand men, put there to hold the key of the entire position against a force at least ten times their number…" Private Gerrish

"At times I saw around me more of the enemy than of my own men…squads of stalwart men who had cut their way through us…" Colonel Joshua Lawrence Chamberlain (Recipient of the Congressional Medal of Honor)

"We ran like a herd of wild cattle…As we ran, a man…to my right and rear had his throat cut by a bullet, and he ran past me breathing at his throat and the blood spattering…My dead and wounded were then nearly as great in number as those still on duty. They literally covered the ground…the blood stood in puddles in some places on the rocks: the ground was soaked with blood." Colonel Oates, Confederate
The Confederates defeated the Federal position at Peach Orchard, but Colonel Chamberlain's forces were able to defend two very important positions, Round Top and Little Round Top.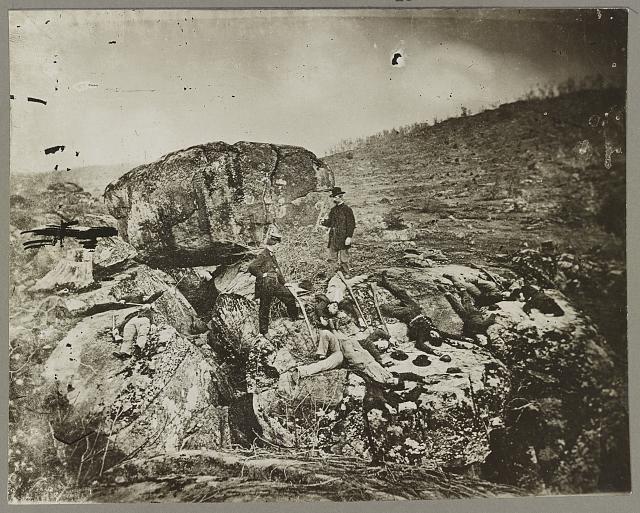 Combat at Peach Orchard, Devil's Den, and Little Round Top ended with General Meade risking exposure of the Union lines at Cemetery Ridge by moving more troops to stop General Longstreet's Corps from crushing the Union Army's left. The Confederates quickly acted, and they moved to break through the opening. They advanced in waves, brigade after brigade, and smashed their way onto Cemetery Ridge. The Confederates were now not far from the rear of the Union line, but General Hancock pushed back the Confederates with Union reserves. One of those Union reserve regiments was the 1st Minnesota, which lost most of its men in less than five minutes. The 1st Minnesota had the most casualties compared to any Union regiment in the war.
By nightfall, Hoke's North Carolina Brigade and Hays' Louisianans fought their way to the crest of East Cemetery Hill, while more Confederates attacked at the same time on the north side of the slope. The units of Hoke and Hays heard troops approaching them in the darkness, and they held their fire believing their support troops had arrived. Unfortunately, the approaching troops in the dark were Union troops and by the time they figured out who they were, it was too late for the two Confederate brigades and they were driven from the hill.
Meanwhile, at Culp's Hill, Confederate General Edward Johnson attacked up the hill against the Union brigade, the upstate New Yorkers, led by 63-year-old General George S. Green. The Confederates were astounded that only one brigade could defend and hold such an important position.
Matilda J. "Tillie" Pierce / born 1848 in Gettysburg and was 15 in 1863 during the Battle of Gettysburg / tilliepierce.com

"I saw the surgeons hastily put a cattle horn over the mouths of the wounded ones, after they were placed upon the bench. At first I did not understand the meaning of this but upon inquiry, soon learned that that was their mode of administrating chloroform, in order to produce unconsciousness. But the effect in some instances were not produced; for I saw the wounded throwing themselves wildly about, and shrieking with pain while the operation was going on."At Gettysburg, or What a Girl Saw and Heard of the Battle – Matilda "Tillie" Pierce Alleman, 1889.
3 July 1863
During the early morning hours, more Union troops moved into the area of Culp's Hill. At dawn, the battle resumed. After several hours of hard fighting, the Confederates were driven back down to the plain below the hill, battle weary and weakened. The Union right was out of danger.
General Longstreet drove back General Sickles' corps but failed to take Little Round Top, which would have enabled him to direct the gunfire from a flanking position along the length of the Union's entire position. Then Longstreet, at Lee's insistence, reluctantly ordered a direct attack on the Union center at Cemetery Ridge with three divisions: General George E. Pickett's, Brigadier General J. Johnston Pettigrew's, and Major General Isaac R. Trimble's.
General Meade saw the attack coming. He alerted General John Gibbon, commander of the 2nd Corps who was positioned at the center of the Union line to expect a Confederate attack. At 1 p.m., the Confederates delivered a barrage of 138 cannons of heavy artillery directly at the Federal line, and the Union answered with nearly 100 artillery guns. This became the greatest artillery duel in the history of the North American continent.
The sound of the bombardment was like a roar that went unbroken for a long time. It was sustained by loud and endless musket fire. Within one square mile, more than 200 guns were in action firing two or three rounds a minute. The noise was staggering. Some gunners said afterward that they could hardly hear the cannon that they themselves were firing.
The infantry hugged the ground to be as low and as small as possible. Rocks shattered from artillery guns into deadly, jagged projectiles that struck the men on Cemetery Hill. In the woods, trees were smashed into splintered pieces that killed many Confederates waiting there. Then the bombardment ended, and there was an eerie silence on the smoking field.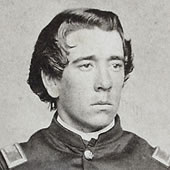 "A shell burst over our heads, immediately followed by showers of iron…Most of the shells that came over the hill struck in the road on which our Brigade was moving. Solid shot (split boulders) as if exploded by gunpowder. The flying iron and pieces of stone struck some men down in every direction…about 30 men of our Brigade were killed or wounded." Elisha Rhodes (diary) – The Civil War: an Illustrated History
Out of the woods came Lee's assault column – known as Pickett's Charge. Pickett, Pettigrew, and Trimble moved forward with their divisions of 15,000 troops. Three gray lines of Confederate infantrymen marched in silence at a brisk, steady pace toward Cemetery Ridge. Union artillery fire and musket volleys cut them down. The Union fighters positioned behind stone walls, piled fence rails, and breastworks, watching the slaughter of advancing Confederates.
Some Confederate units were separated from others while on their way to the Union center, and General George J. Stannard's Vermont Brigade took advantage of the opportunity. He maneuvered his brigade in drill-field fashion and moved between two Confederate columns. Turning one way, his brigade weakened the normal function of the flank of one column and then, turning his brigade around, fired into the flank of the other column.
The Confederates, led by General Lewis A. Armistead of North Carolina, managed to breach the Union line at a place called "the Angle." General Hancock had command of the Angle, and he knew General Armistead before the war. General Armistead was immediately gunned down, and his dying wish was for his old friend, General Hancock, to send his personal effects back home. The rest of General Armistead's men were either killed or captured, and the hole in the Union line was closed. Pickett's supporting divisions gave way, and he was driven back with tremendous losses by General Hancock's counterattack.
At the same time that Pickett's charge hit the Union center, a great cavalry battle developed three miles to the east, known as the East Cavalry Field. This cavalry engagement began slowly with some 4,000 Union cavalrymen who were positioned for battle near Rummel's barn, but unaware of Major General J.E.B. Stuart's movement of his 6,000 cavalrymen toward them in a wide sweep around the Union line. This maneuver was Major General Stuart's surprise attack on the Union's rear.
One of the Calvary brigades, led by General George A. Custer (famed for his last stand at Little Big Horn), was about to leave Rummel's farm with his men for another sector when 1st New Jersey Cavalry arrived at the Rummel farm to see what might be there, and much to their surprise, they found great numbers of Confederates and the battle commenced.
Major General Stuart directed Generals Wade Hampton and Fitzhugh Lee to lead their cavalry units in a charge against the Federals. The Union Commander General D.M. Gregg ordered his cavalrymen, including Custer's brigade, to mount and return a charge against the Confederates. There was mass confusion on Rummel's farm as thousands of horses and men fought until the Confederates fell back. The Union cavalry eventually defeated Stuart's cavalry.
A Union officer, Captain Miller, who commanded a unit of the 3rd Pennsylvania Cavalry, was ordered to move his cavalry unit to the right into the woods, and remain there for further orders. As he did so, he watched the Confederate Cavalry move past him. He disobeyed his order and took his horsemen out of the woods into the flank of the Confederate column. His surprise attack on the Confederate's flank caused them to fall back, which helped to bring the Union Cavalry to victory. Captain Miller received the Congressional Medal of Honor even though he disobeyed orders.
Not only was this a first great victory for the Union Cavalry in the Civil War, but it also marked one of the first uses of the repeating rifle by Union Cavalrymen. This additional firepower of the repeating carbine gave the Union an advantage.
4 July 1863
That afternoon, Lee retired to a position west of Sharpsburg. There the flooded Potomac River blocked his retreat. President Lincoln and General Henry W. Halleck ordered General Meade to attack General Lee, but Meade procrastinated and the river subsided. Lee escaped into Virginia.
General Lee evacuated his wounded by wagon train under the protection of Confederate Cavalry General J.D. Imboden, who watched the 17-mile long train travel toward Cashtown. Under heavy rain, Imboden rode from one end of the train to the other with the screams of the wounded in his ears and in his soul.
After the Battle of Gettysburg, people of the town re-appeared. Everywhere were scenes of total devastation. Homes damaged from shot and shell, and many filled with the wounded. Water wells almost empty, and so were the stores. Five thousand horses and mules lay dead. The odor of death hung over the town.
Helpers came to search the fields for the wounded – some were women who came for the dead – searching for lost loved ones. Some had come for souvenirs of the battle and in their search, lost arms, legs, and lives from active artillery shells that exploded. It took many months to restore the town and the countryside – to bury the dead, clear debris, care for the injured, and comfort survivors.
---
COMMENT
In 1964, I was old enough to understand what this national park represented: death and cruelty of war. It showed me people can be hateful, stubborn, and revengeful as well as willing to sacrifice everything for their beliefs. I knew even then at such a young age that slavery was horrible and wrong, but what I did not understand was why people could not resolve their problems without having to kill each other. Why did these people want to go to war and fight their fellow neighbors, or even their own families, over a disagreement on differences?
And so I discovered through research that it was not only the attitude of slavery, but also the differences between economics, politics, Constitutional law, manners, customs, and morals that eventually divided the North and the South. Angry words, less and less reasoning, hatred toward one another, and violent reactions were warning signs of a coming disunity that was to tear the Union apart. Finally, the South chose to secede from the Union in order to justify the principle of states' rights, and maintain their right to slavery as absolute and untouchable.
My visit to the Gettysburg Battlefield in 1964, 101 years after the fact, was chiseled in my memory and, like stone, remained with me to this day. I remembered how I felt driven to physically touch with my fingers field artifacts, cannons, a wagon, a stone wall, a picket fence, and battlefield cemetery headstones. I wanted to directly connect to its living history, and I envisioned myself there – hearing battle sounds and human voices. I wanted to somehow express my empathy toward those who fought in this horrific battle as well as to those men who died there, but I didn't know how. I really wanted to understand how a person's conviction propelled them to kill friends and brothers.
I remembered overlooking the battlefields from Round Top, Little Round Top, Devil's Den, Cemetery Hill, Cemetery Ridge, and Seminary Ridge, and I imagined the battles there, the noise and smoke from artillery, as well as the screams of pain from the wounded and dying on those bloodied fields. I was horrified with thoughts of so many horses killed, the wounded having amputations, and those left in the fields to die in agony.
The Gettysburg Battlefield enabled me to visually experience my American heritage on a real battlefield. A living history of battle hauntings that eerily continued through re-enactments of horrors by Park tour guides. Its history introduced me to an old world of real people who were not just history book characters of names and places, but a lost world of a mindset that was different from mine. I discovered they were people who lived with a culture and morality that were more important and valuable to them than what I know from the society in 2013.  Since my visit to Gettysburg, I have been drawn to and driven to explore, touch, and record history. And so I wrote this piece to commemorate the 150th Anniversary of the Battle of Gettysburg because my visit there meant so much to me.
---
SOURCES
Ansley, C.F. (ed.). 1935. The Columbia Encyclopedia in One Volume. Compiled and edited at Columbia University.
Catton, B. 1965. The Centennial History of the Civil War. Volume Three. Never Call Retreat. E.B. Long, Director of Research.
Gettysburg Visitor's Guide. 1964.
Miller, W. 1958. A New History of the United States.
Morris, R.B. (ed.). 1953. Encyclopedia of American History.
Skousen, W. Cleon. 1981. The 5000 Year Leap: The 28 Great Ideas That Changed the World. National Center for Constitutional Studies.
Ward, G.C., K. Burns, and R. Burns. 1990. The Civil War: An Illustrated History. Alfred A. Knopf, Inc., NY. Distributed by Random House, Inc., NY.
Williams, B. 2007. Battle of Gettysburg. www.militaryhistoryonline.com.